This article appeared on the original Ring2100.org website circa 2000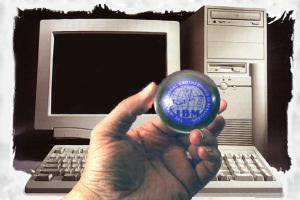 How it all started
Once upon a time...
As the sun comes up over a small town in Tennessee, a soft spoken woodcrafter/magician presses a button and attends yet another IBM Ring meeting,... his tenth for the week. In Washington, D.C. a magician attends a Ring meeting on his lunch hour. At midnight in San Diego, a magi brews a cup of tea and attends a Ring meeting in pajamas. At 30,000 feet a magician produces a laptop computer, plugs it into the Airphone and attends a Ring meeting. All over the country, similar scenarios are being played out. And in a tiny suburb of Los Angeles another wizard/magician brings them all together by keeping a watchful eye on his complex computer system designed to do just that, bring magicians from all over the country and the world together electronically.
Welcome to Ring 2100, the very first Global Electronic Ring! The only one of it's kind, the Ring was granted it's charter at the I.B.M. Convention in 1993 in Quebec, Canada. Members of the new Ring communicate with each other by means of computer, making time zones, distance and frequency of Ring meetings irrelevant. With the touch of a button, members can log on at any time and as often as they like.
The brainchild of David Lichtman, system operator of the MAGIC!(tm) Computer Network, and Tabby Crabb, owner of Conjurors Woodworks, the new Ring was designed with two specific purposes in mind. One is to bring I.B.M. members from all parts of the globe together, as members of a truly international Ring. The second is to provide a Ring for members who do not have access to a regular meeting, for logistic or other reasons.
A few additional benefits of membership became obvious as the new Ring was being formed. One is the continuous flow of magical information that crosses the communication wires. Because the membership is scattered over a wide area, Ring 2100 members are able to provide and be privy to an almost instantaneous report of happenings in the magic community. An example of this was during past I.B.M. Conventions. The results of the competitions were known by Ring 2100 members approximately one half hour after they were announced!
Bert Barbay summed up his reasons for joining Ring 2100 shortly after joining:
For me, the real benefit of Ring 2100 stems from the fact that our primary contact is by computer and not face-to-face. The advantages this brings to me are:

Convenience- No commuting to ring meetings. This saves time and money. No schedule conflicts. I can attend meetings as it best fits my time needs. Travel and other obligations don't interfere with participation.
Global Membership- Active participation isn't restricted to those who live within a convenient commuting distance to the Ring's meeting location. This offers the Ring an opportunity to have some of the best minds in magic as members and/or lecturers.
Timeliness- Ring 2100 meets continuously, not just once a month. This allows fast, constant and regular interactions to occur between members.
Tabby Crabb adds:
"I've wanted to be able to be a member of a magic club for years. For two decades my traveling prohibited it and when I got off the road (I don't like to drive at all anymore) I wanted some peace and quiet and moved to the country where the closest I.B.M. ring (#37 in Nashville, a fine old ring) is an hour away.

I am very active in Magic, and have been for most of my life but hadn't gotten exposed much. When Dante Larsen ran a story on what had become of Pete Biro's "The Reel Works" column (it was now on MAGIC!, a fledgling private Magicians BBS with a handful of members, established and maintained by one David Lichtman, a renegade horse trader from South Carolina and the venerable Pete Biro was writing his column here online) I signed on and left what amounted to message #392 (or thereabouts) in the first group of 50,000 messages.

Having this contact opened up new vistas to me (as well as making some new friends and some new enemies) and I became dedicated to opening it up for more people similar to myself; talented, dedicated and somewhat removed from the mainstream. It was in this spirit that I suggested the formation of the ring and nominated its first president, David VanVranken.

Any club is only as good as the members. There is a diverse and qualified assembly here at Ring 2100 and the I.B.M. should be congratulated as well for granting us the charter and for giving us such a big number!!!!!"
Says President David Van Vranken "We have a lot of ideas and some great people helping out. This is definitely going to be the Ring of the future!"
"We're all very proud of the new Ring." said Stacey MacKenzie, our first Ring Secretary. "We are making magic history with everything we do, and we have to make those things count."
Magic! BBS sysop David Lichtman agrees. "The new Global Electronic Ring represents I.B.M.'s dedication to the future. It is a bold, exciting step which can bring the entire magic world closer together."
Pete Biro put it another way. "I LIKE the meeting place!"
Which, for Ring 2100 members is wherever their computer happens to be!
Now with the Ring on the Internet, there are several ways to participate. These Web pages, private e-mail, Web chat, BBS's around the world are only the beginning! As technology advances, rest assured Ring 2100 will be there.
Now sit back, get comfortable, and join our meeting, already in progress...